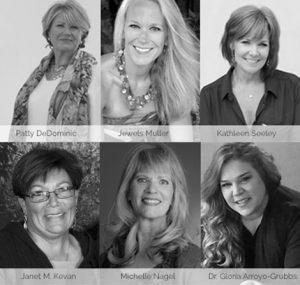 We've hand-picked 6 brilliant (and engaging) powerhouse speakers with fascinating stories to share that will leave you inspired and a new perspective to take into your life.
Patty DeDominic
Patty DeDominic is a Business Coach for high-achieving professionals and was awarded the Lifetime Achievement Award from President Obama in October 2015 for all the amazing work she does to make a difference in women's lives and in economic development and leadership. 

Kathleen Seeley (our Keynote)
Kathleen Seeley is often referred to as a Badass! She is an acclaimed international speaker, transformational coach, facilitator and corporate leadership consultant. Kathleen's speech topic is Being Massively Human. 

Jewels Muller
Jewels Muller is a wife and a mother of twin boys. She is the Founder and CEO of Chicks Connect Mastermind Support Network. She has an amazing passion for life and helping others reach their dreams. Jewels' speech topic is The Gifts in Adversity. 

Janet M. Kevan
Janet M. Kevan is the Founder and CEO of A Kindhuman Company which is home to 6 incredible services to the community. Janet's speech topic is Free To Be Me – Birth, Breath, Earth, Death Tour®. 

Michelle Nagel
Michelle Nagel is a Transformational Trainer, Master Herbalist, energy therapist, and the President and Founder of Soul Shift™, Inc. She has been leading workshops for over 15 years, empowering people to take responsibility for their own health and well-being. Michelle's speech topic is Is Your Childhood Hijacking Your Life?

Dr. Gloria Arroyo-Grubbs
Dr. Gloria Arroyo-Grubbs, DC, BA, BS has over 20 years experience in the health care industry and is passionate about her community; working to ensure a better health future for all cultures in the Pacific Northwest.