Over the past few years, Grammy Award winner, Andrea Pearson has opened shows and shared the stage with Vince Gill, Martina McBride, Lee Ann Womack, Reba McEntire, Corey Hart, and Bryan White.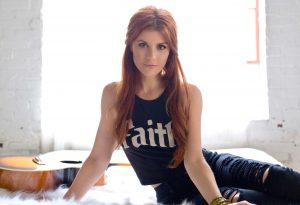 As if there's time for anything else, Andrea was a finalist on CMT's Next Superstar series, appeared on 'Private Lives of Nashville Wives', had guest starring roles in other artists' music videos, runs her own home studio, and recently made her debut on the Grand Ole Opry with Bryan White. When she's not out center stage, you can find her singing back up for a number of major Nashville artists including most recently on the Grammy & Dove Award winning album 'Sing it Now' by Reba McEntire. In addition to her talents as an artist, Andrea is a very prolific and in demand songwriter and has written hundreds of songs and has had her songs placed on numerous albums as well as film & TV on networks such as ABC & CMT.
Andrea is a creative force of nature. Whether she's creating commissioned watercolor & acrylic paintings, directing music videos, shooting album photography or restoring and building furniture, she is constantly moving through this world with a relentless determination and a fearless creative spirit. Writing, recording, painting or performing, she's a sensitive interpreter of the human condition.  She writes honestly about her own journey and in doing so she creates an engaging and often cathartic experience for her listeners, one tied to the fundamental understanding that we all share the same joys, fears, desires, challenges, victories and losses in this life. This is evident in Andrea's most recent full length album 'Evolution' where she solo wrote 11 out of the 12 tracks by allowing herself to uncompromisingly go places in her past and tell her story uncensored. This album touches on the painful loss of her father and brother, shares songs about love and heartbreak, hope and healing. Listen to Andrea's voice and you'll encounter a certain joy for life.  She sings with an uncommonly compelling intimacy and a formidable agility.  She'll make you cry and she'll make you laugh. She'll make you feel and she'll make you a part of the story.  Andrea is the real deal, a truly authentic artist.  Whether she's performing for a crowd of thousands, hundreds or even a dozen, ultimately her greatest wish is that you, the audience, will be moved and come away changed… at the very least, a little more connected with your own sense of joy for life.